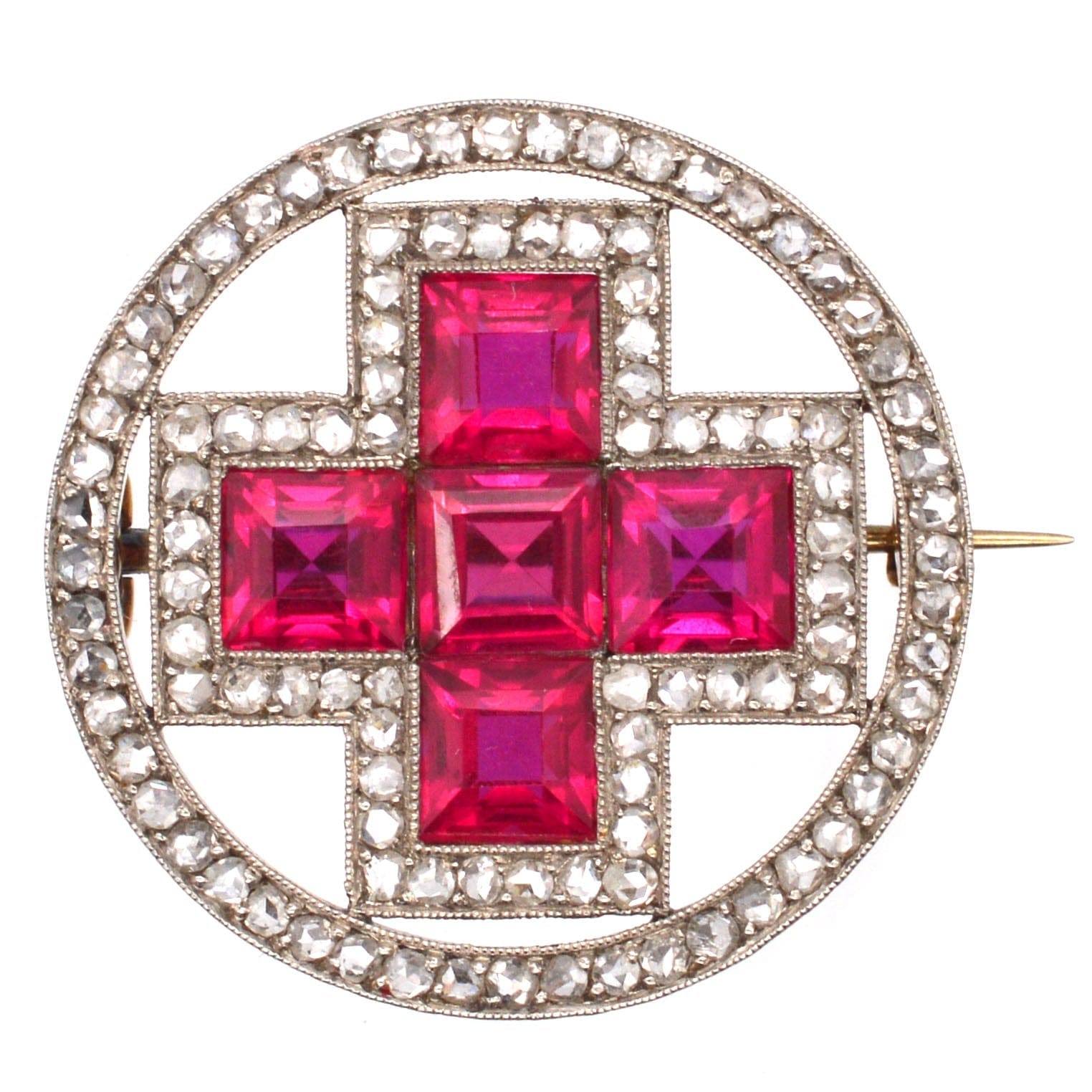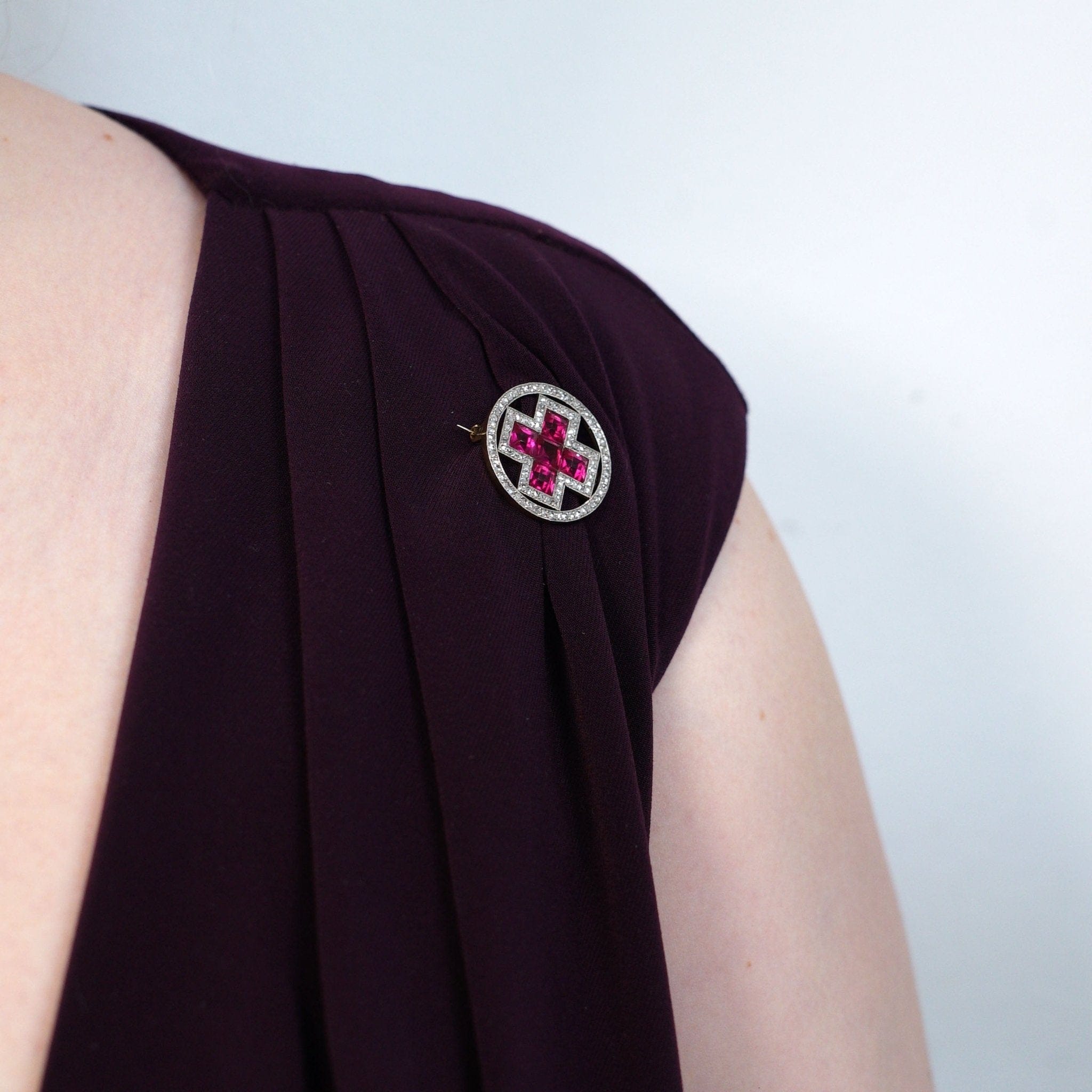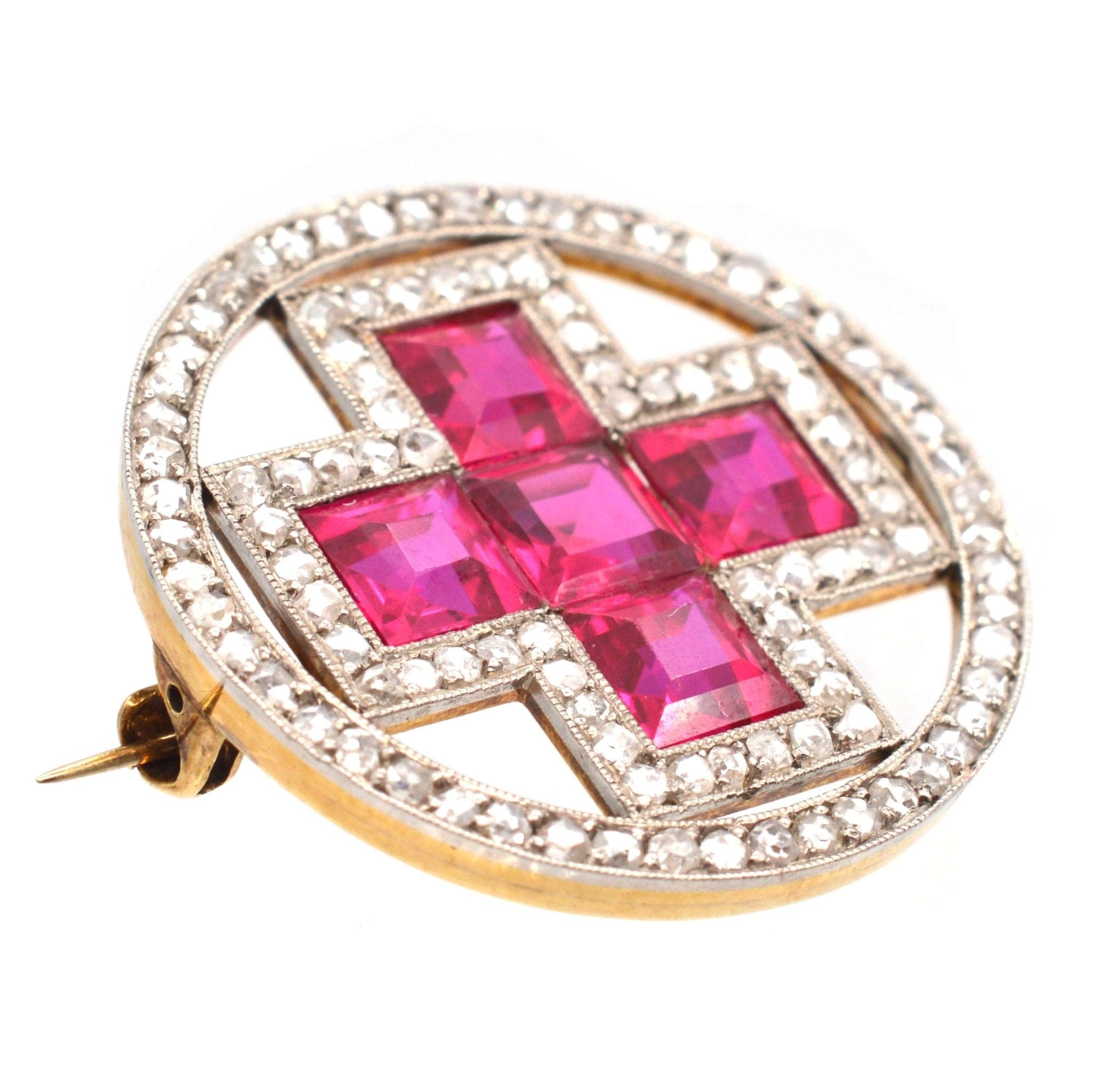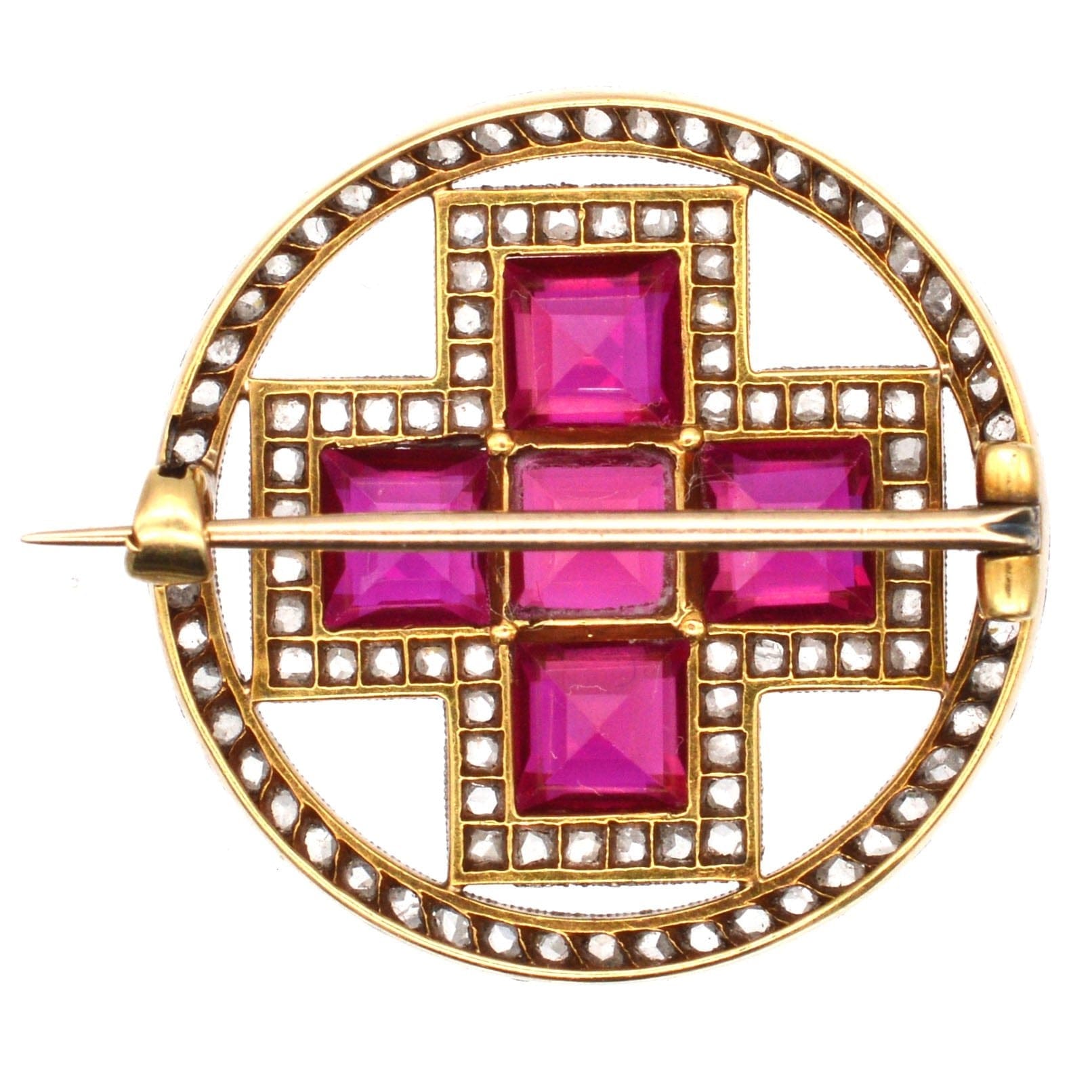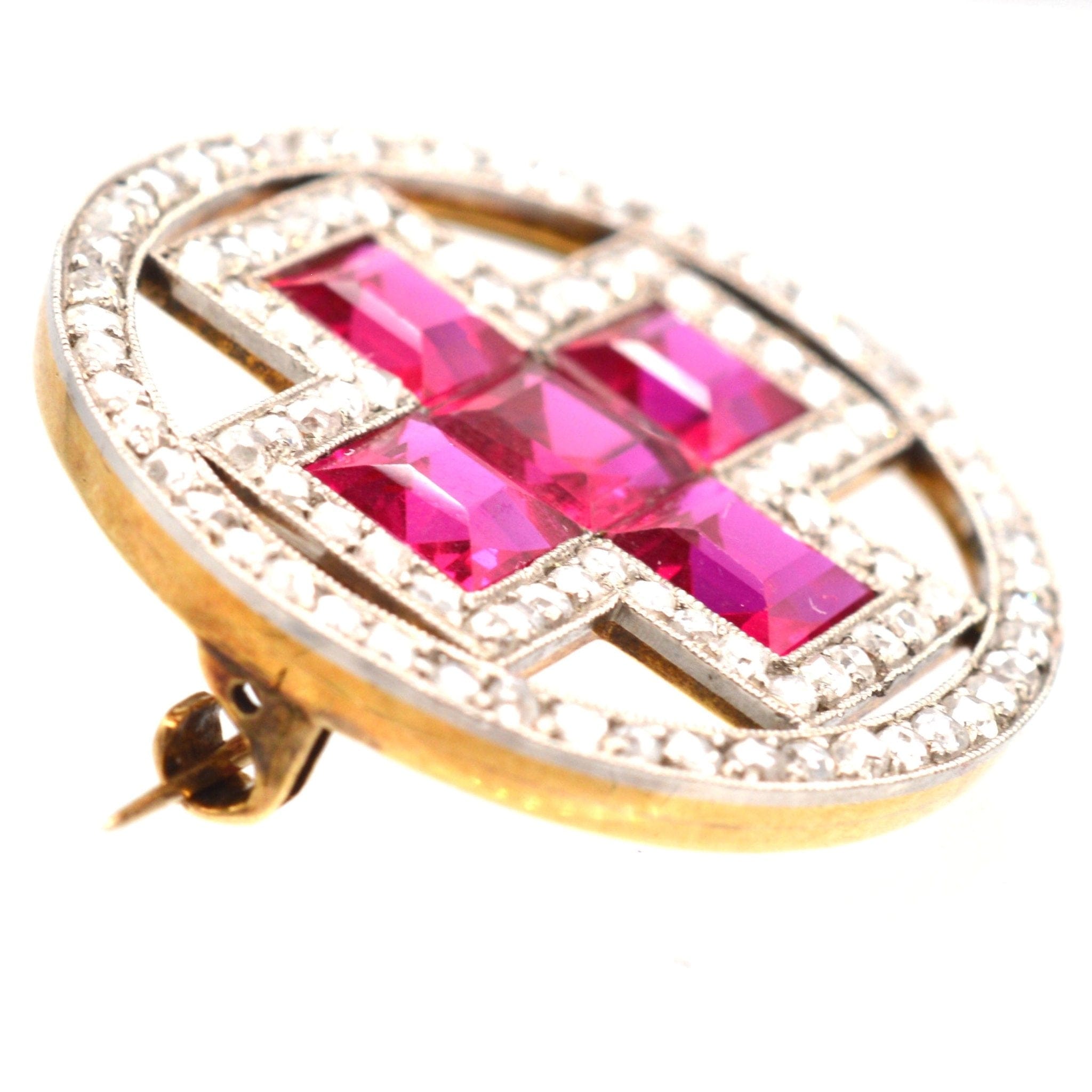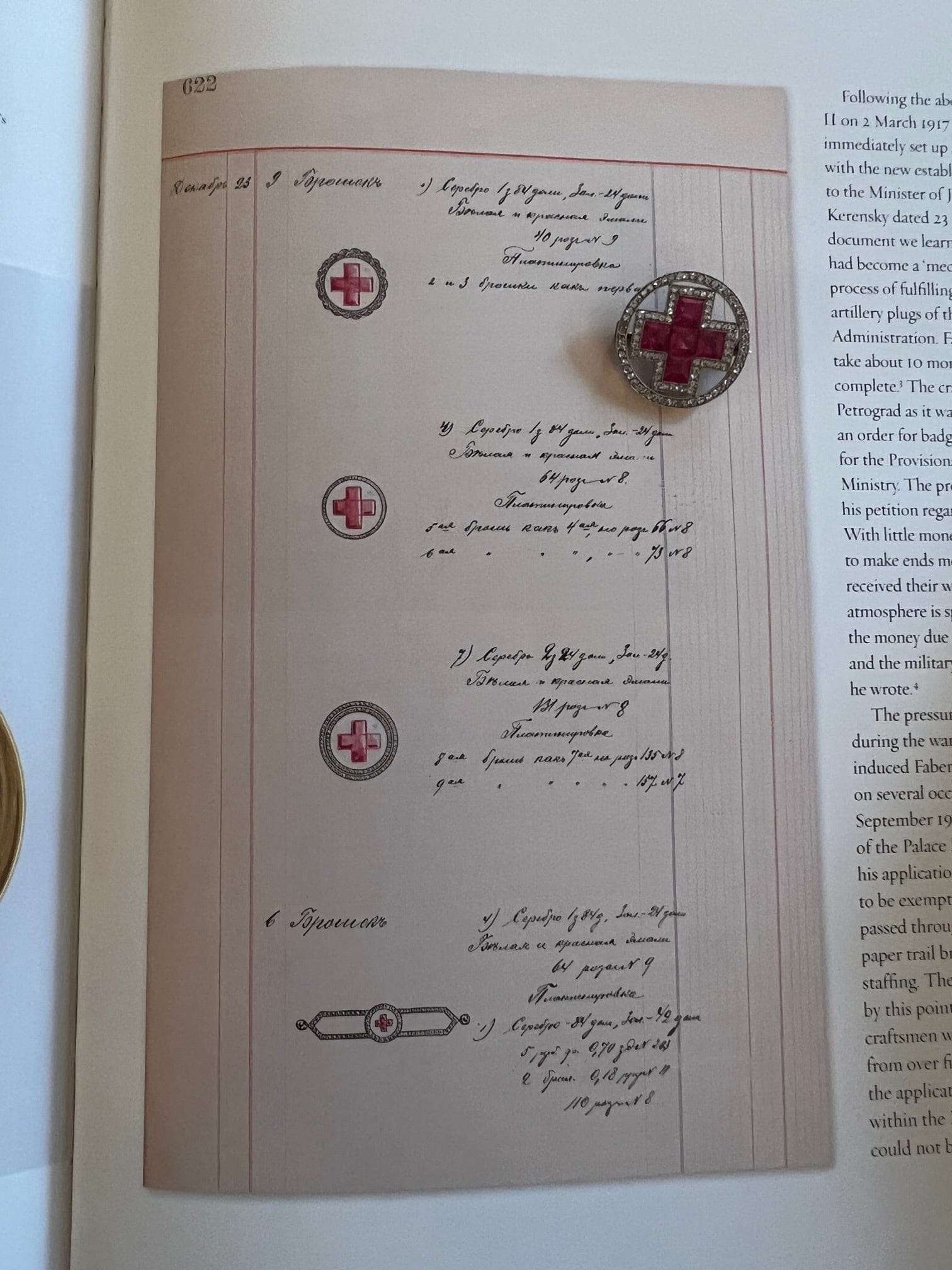 Imperial Russian 1910s 18ct Gold and Platinum, Synthetic Ruby and Rose Cut Diamond Red Russian Cross Brooch
Description
This brooch was made for a lady of society to wear to show her support for the efforts of the Russian Red Cross during the First World War. It bears a striking resemblance to the brooches coming out of the Holmström workshop in St Petersburg. See images of the brooch similarities to the archive of Faberge. As seen in the book of the London exhibition 'Faberge in London' at the V and A (2022) This brooch made circa 1910s before the Russian Revolution of 1917. 
Synthetic rubies were extremely fashionable at the time, and these are lovely examples of this technique. The workmanship seen in this brooch is extremely fine, and it would make an historic and evocative addition to any jewellery collection. It looks marvellous on a lapel, at the centre of a collar, on a tie, pocket or lapel.
Product Details
Date & Origin 1910s, Russian
Era Edwardian (1901-1914)
Measurements 2.5cm x 2.5cm
Rose diamonds approx. 1 carat in. total
Synthetic Rubies 3.5 carats approx.
Material 18ct gold and platinum
Hallmarks Unmarked
Condition Very good
What Zuleika says
"Faberge have very similar ones in their archives! Ask me for the photos!"
Any questions?
Get in touch with Zuleika about the Imperial Russian 1910s 18ct Gold and Platinum, Synthetic Ruby and Rose Cut Diamond Red Russian Cross Brooch (222N)
Email: zuleika@parkinandgerrish.com
Call: +44 (0) 2072062420
WhatsApp: +44 (0) 7766718842
Imperial Russian 1910s 18ct Gold and Platinum, Synthetic Ruby and Rose Cut Diamond Red Russian Cross Brooch
Order FAQs
Do you offer layaway? Can I pay in instalments?
Yes! We have different ways of doing layaways.
Paypal is most popular or via bank transfer. We try to be as flexible as possible, so if you tell us what you need, we will agree the layaway terms on a case by case basis with you.
We usually offer a PayPal invoice over the period of 3 months, but can happily extend to 6 months if needed. We do not charge interest for instalment payments. Paypal invoice allows you to pay a partial payment whenever is convenient for you.

A 20% up front, non refundable, deposit is required to hold the item, and this counts towards the item total. Payment is then made over the following weeks and the final payment must be made by the agreed end date.
Please note, items bought on layaway are returnable, but the deposit is non refundable. Items are shipped once payment is completed. If payment is not made within the agreed time frame, we will try to work with you to agree a solution, but reserve the right to refund your money (bar the deposit) and re-list the item Please contact us directly to discuss further.
Does it come with a certificate?
Yes, we provide a Parkin & Gerrish certificate with your purchase.
All of our jewellery is checked and examined in house by Zuleika who is a professional gemologist and a FGA (Fellow of the Gemmology Association) and DGA (Diamond Member of the Gemmological Association).
The Parkin & Gerrish certificate is perfect to give to your insurance company along with a copy of the invoice. Please note, the certificate we provide is not a gemological certificate.

Some of our higher end jewellery will come with accredited gemological/diamond certification from a lab. If it does, it will be mentioned in the description. If it has not been lab certified, it is possible to provide such a certificate from a reputable London gemological lab. There is an additional non refundable charge for this, approximately £80 - 120 + VAT. Please get in touch with us to find out more.
Can I try on before I buy? I need help deciding!
As we are online-only, we offer virtual appointments with Zoom, WhatsApp & Signal video. We are more than happy to provide any additional photos, videos or details about the item/s via email and WhatsApp/Signal. Zuleika will be delighted to be your very own personal virtual shopping assistant. Do get in touch with us. 
If you order jewellery from us and it doesn't satisfy you in any way, we offer a full refund policy - please read for further details.
How long will my order take to arrive?
We aim to dispatch as soon as possible, usually within 24 hours.
However, there infrequently might be a delay up to 72 hours.
Please allow an additional 5 working days to the delivery time for resizing of rings. Please get in touch if you are wishing to have your item arrive for a particular date and we will try our best to accommodate.
My purchase is a surprise for someone. I do not want my partner to know!
Don't worry, your secret is safe with us! We have very discreet packaging on the outside – we also do not want the postman to know the box he is carrying contains jewellery! 
Every purchase is gift wrapped and we can include a gift messages too - please add to your order note or send us an email.
Can a product be engraved?
Yes, please contact us for further details on cost and availability. Any piece that is engraved is a final sale.
Shipping
How much does shipping cost?
Do you ship internationally?
Yes, we use Royal Mail and DHL to ship all over the world. We only used secure and insured services. Read our shipping policy here. 
Do you ship to P.O.boxes?
We are unable to ship to P.O. boxes at this time.
What is your return policy?
About us
SUSTAINABLE PACKAGING
Our gift boxes are plastic free, fully recyclable and FSC certified. They are high quality rigid luxury boxes that look and feel amazing. They have been beautifully designed by Zuleika and Oliver and best of all, made in the UK!
Our jewellery is presented inside the gift box in a green presentation box, as well as, a luxury reusable pouch and tissue paper. Our boxes, pouches and tissue paper are made in the UK and support small businesses.
Our postage packaging is also recyclable. You can read more about how we are sustainable HERE.
MADE IN THE UK
Parkin & Gerrish are very proud to be not just a British Brand, but also a small family run business. We have personally hand-picked all our jewellery, as well as our manufactured jewellery, our packaging and even our jewellery cleaner from all over the UK, supporting local and small businesses.
The point is, we know exactly where everything comes from and how it is made. We have homegrown ethics and principles, we care about people, customers, suppliers and our planet and the next generation.
SIGNATURE GIFT WRAPPING
Every purchase is lovingly gift wrapped by Zuleika herself. 
We felt it was important, as we are not a physical shop and online only, you have the ultimate experience of opening our beautiful packaging. Nothing feels better than receiving jewellery. 
We can include a gift messages too - please add to your order note or send us an email. 
Oh and do not worry, your secret is safe with us! We have very discreet packaging on the outside – we also do not want the postman to know the box he is carrying contains jewellery!
PACKAGING
Tie Pin Box
These are made by a small UK family business based in Dorset that has been going for over 80 years. We provide a stopper too!
Wedding bands
The history of tie pins
Tie Pins are also known as Stick Pins. They were first popularised in the early 19th Century by the English Gentleman. They can be worn in a numerous ways: cravats, ties or on a jacket collar (lapel). They are the perfect gift for the gentleman who wishes to glam up his look for a wedding or for the races.
A tie pin is a long pin, worn vertically with a decorative top. The pin can be straight or a twisted section (for extra security). All our tie pins come with a protective cap (stopper) to place over the pointed end to help keep the pin in place and to stop you getting spiked!